A place of honor, a symbol of strength ... Yes! This is the legendary arena where dedicated fighters duel it out against one another to prove who the true King of Fighters is!
Fighters combat each other in a 1v1 battle.
You can challenge other players to obtain higher rankings and prestige, until you eventually reach the top spot and dominate the whole server!
So, how can you actually reach this pinnacle of the arena and win the championship? Let's take a look.
Arena Entrance
Tap on the small "Arena" icon on the bottom right hand corner of the home page to enter the arena area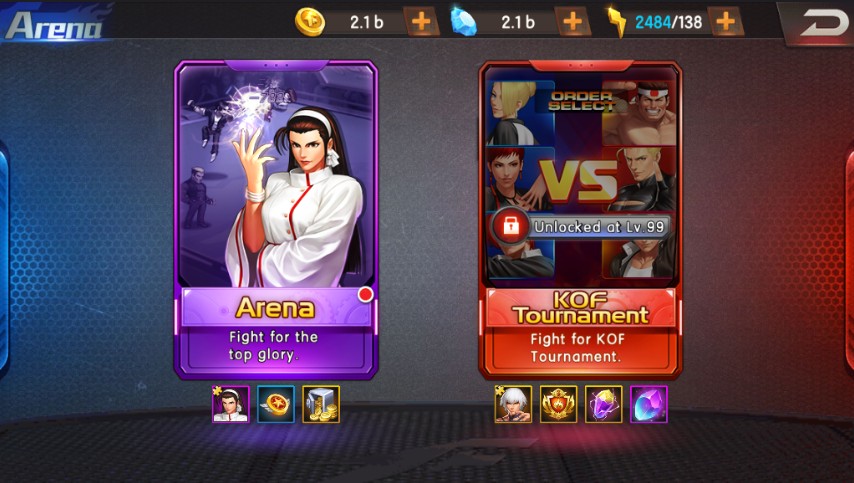 You will see this interface right after entering the arena; this is the entrance, go in to combat other fighters!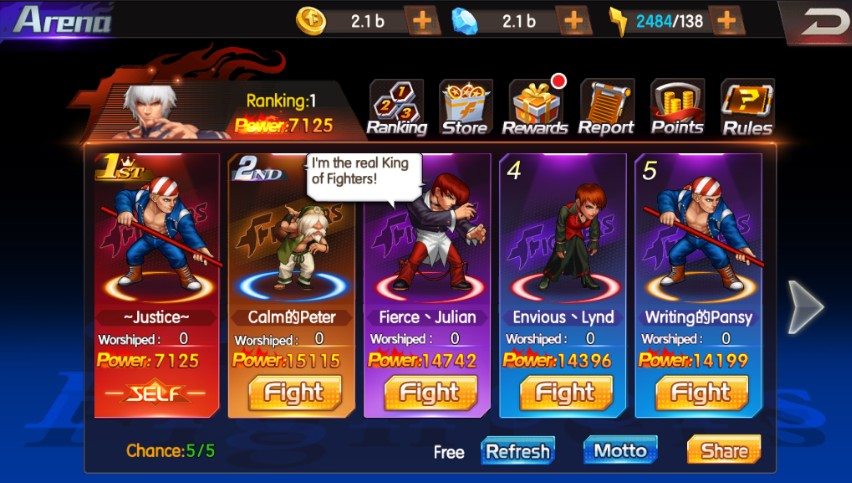 Arena Rules
1. Enter the Arena and you will see fighters of different ranks, some higher, some lower.
Challenge fighters with a higher rank and beat them to switch positions with them, keep doing this to improve your ranking.
2. To ensure fairness, all challenges are fought in automatic fight mode, since your opponent may not be online at the time and can't use a series of perfect combos like you can, and we can't just give them all perfect combos either. So just sit back and enjoy the fight.
3. You only get 5 challenge opportunities a day with a 5 minutes cool down in between each challenge.
If you can't be bothered to wait, you can also spend a little diamond to reduce cool down to 0 immediately (not permanent). You can also use Diamonds to increase the number of challenge chances in order to get better daily arena rewards.
4. If you are unsatisfied with the available challengers, you can also click refresh to switch out the panel of potential challengers and replace them with new ones. Note you only get 2 free refresh chances, after that it will cost you a bit of Diamonds.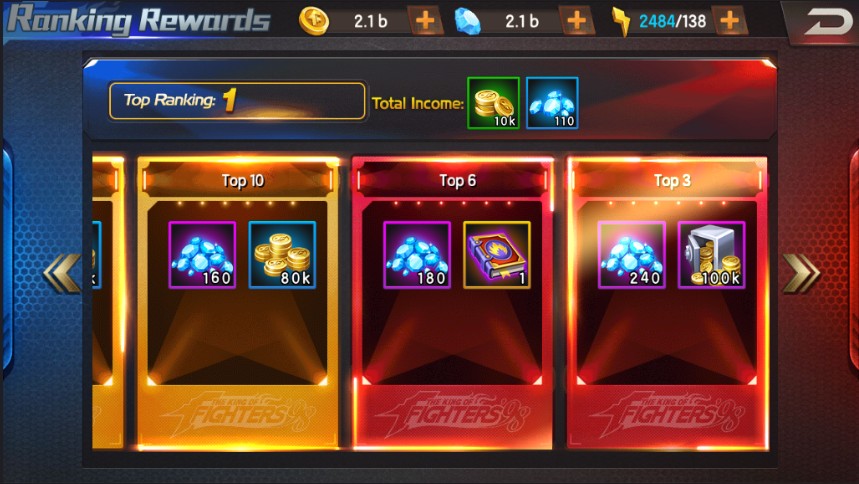 Reward Info
There are 3 types of rewards in the Arena, the daily points reward, the daily ranking reward and the once off personal best rank reward.
Daily Points Reward
l You get 2 points for winning an arena fight and 1 point for losing
l You get a reward for every 2 arena points gained, with a maximum of 10 rewards
Daily Ranking Reward
l The daily ranking rewards will be automatically sent to your mailbox at the end of each day. The detailed rewards given for each rank level can be found in the 'Rules' section in the arena
Personal Best Rank Reward
When you have reached a certain personal best rank level, you can claim the once off corresponding rank reward. You can get lots of gold coins, diamonds, equipment chest keys, and even awakening stones.